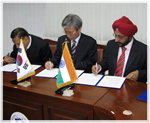 IUC Pty Ltd has established strong international relationships with government agencies, education authorities, universities, schools and other institutions in a growing number of countries. Such ties are particularly strong in Korea, India, Australia and the Middle East and we are extending them all the time.

Some of our international ties include these:
In some cases, educational institutions have formed agreements and/or partnerships with IUC; for instance, some Korean institutions (including the Institute of Foreign Language Studies of Korea University, Kangwon National University, Sangji University, Kongju National University, Tongwon College, the University of Incheon, and Chung -Ang University), the Kyungsangnamdo State Department of Education of Korea, Amity University in India, Marefat Educational and Cultural Institute in Iran, John Paul College in Australia, Education City (incorporating the University of Southern Queensland, Education Queensland International and six other institutions), Springfield, Australia, and so on.
In other cases, IUC as representative works in cooperation with educational institutions in Australia to direct students into their programs, often students who have gone through an IUC English course (e.g., Griffith University English Language Institute, Deakin University, Queensland Institute of Business & Technology, Aviation Australia, Southbank TAFE, and so on).
In other cases, universities or schools have cooperated with IUC to offer a program designed by IUC to ensure that students receive a strong international education (e.g., see our IAP program described elsewhere in this brochure).
IUC also provides on-line, real time English language classes for students in universities and schools in Korea and other countries; currently it provides on-line English courses to4 universities and 52 primary and secondary schools in Korea and is negotiating with institutions in other countries that are also keen to undertake our on-line English courses (see, in particular, our EMC courses described elsewhere in this brochure).