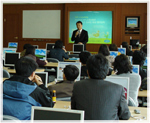 e-Learning is synchronous, real time, computer-mediated communication. In this program, the teaching is done on-line. This innovative program reaches across borders, education levels, and systems. It draws on expertise in information technology, curriculum design and development, and implementation skills. Its use of modern technology gives flexibility in delivery and facilitates cultural understanding as students are immersed in English-speaking culture.

EMC programs are designed for learners across educational sectors from preschool to university and on to industry and professional education. EMC courses are specially designed to meet the growing demands for the wider global community to understand and speak English in a variety of contexts with a variety of English accents.

Through the creative use of computer-mediated communication (CMC), students participate in a series of real-time on-line tutorials with native English speaking instructors who guide them through a variety of carefully designed course materials. EMC courses all use original materials in programs tailored to suit students and education systems in all sectors: preschool, elementary, middle and high school, and tertiary. The instructional programs are client-specific and flexible. EMC also designs, on demand, special programs for professionals who need to visit or work in an English-speaking context.



EMC programs are presented by native English speaking teachers and provide students with the skills to expand their horizons in English language and Western cultural situations. This occurs in a variety of ways and pivots around the four macroskills: reading, writing, speaking, and listening. All programs have a tutorial structure that allows plenty of discussion time, which ensures that students develop competency in all areas of English language communication and actively participate in speaking with the e-Teachers. Students are exposed to a variety of genres thereby sharpening their reading, speaking, listening, and writing skills.
The IUC's approach to teaching the English language and culture is uniquely distinctive. It creates opportunities for students to use the English language in meaningful and purposeful ways in a secure, nurturing and motivational learning environment and to interact, in real time, with native English speakers.