IUC Pty Ltd provides English teacher training programs for institutes, schools, universities and businesses around the world. All IUC teacher training programs are tailored to address the specific needs of each client.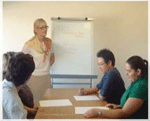 The IUC Teacher Training Program team members are highly qualified and very experienced teachers and lecturers. They draw on their vast knowledge and prior experience in both classroom teaching and teacher training to provide cutting-edge information in EFL/ESL teaching practice.
By arrangement with various Australian universities, programs can be designed to provide a pathway and possibly advance standing into undergraduate or postgraduate degree courses in language teaching.